Posterior Porcelain Crowns
Dr. D. Ian Bell - Enhancing the Aesthetics of Your Teeth
Customized porcelain crowns are beautifully created in the ideal tooth color. They are used to support teeth that have been badly damaged by decay and to mask imperfections in your smile. A crown or "cap" fits right over the remaining part of an affected tooth, giving it back its natural shape and strength. These crowns can also replace broken, leaking metal fillings that are too large to be filled with composite material.


Take Steps to Protect Your Overall Dental Health
The posterior teeth consist of your molars and premolars, and do the bulk of your chewing. Whereas wear and tear on your front teeth can affect the appearance of your smile, it is important to note that degrading posterior teeth can affect the overall functionality of your mouth.

Used on the posterior teeth, porcelain dental crowns offer an attractive fix for badly damaged molars while giving you back a strong, secure and healthy bite!

In the fabrication of his crowns, Dr. D. Ian Bell is renowned for using only top dental grade porcelain and precious metals. Settle for nothing less when enhancing the aesthetics of your teeth and protecting your overall dental health!


Before & After: Posterior Porcelain Crowns
Before
Several teeth with old, large, broken down fillings and weak existing tooth structure.
After
The teeth are restored with porcelain crowns, restoring their natural shape, strength, and function.
Before
Very large, deteriorating amalgam restorations and severely broken down tooth.
After
Strength, form and function restored with the use of full coverage porcelain crowns.
Before
Large amalgam restorations.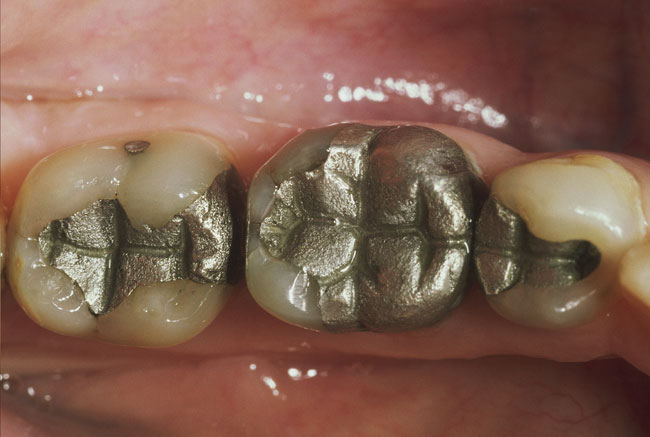 After
Porcelain crowns are used to improve strength, form and aesthetics of the teeth.
Before
Several unhealthy conditions exist: poorly contoured composite filling and crown, leaking amalgam undermined with decay, a tooth with a missing cap.
After
Porcelain crowns restore the form, strength and aesthetics of the teeth.