Implant Supported Dentures
Upgrade Your Smile

Do you need a dental solution that matches your needs and enhances your life style?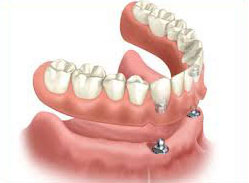 Implant Supported Dentures

Implant supported dentures, also called overdentures, are another style of denture that is designed to attach to dental implants. The maximum comfort of the patient and overall wellness is Dr. Bell's highest priority. Dr. Bell appreciates each patient's unique situation, and specific oral health goal. Through identifying the dental needs of the patient, Dr. Bell may determine the best solution is one that offers a more secure fit with improved retention, greater chewing strength and superior stability — such are the benefits gained by going with overdentures.

Generally, overdentures are supported by two or more implants, and when compared to the traditional style of dentures result in less bone loss. Dr. Bell's ultimate goal for the patient is to be able to maintain seamless functionality with their new teeth, in addition to providing a smile appearing both normal and beautiful. Give yourself a reason to go out and show off your smile!


Dr. D. Ian Bell - Yielding Magnificent Results

Dr. Bell takes pride in the reputation he has earned through consistently yielding magnificent results for his patients. He understands that to help stabilize a patient's bite, improve speaking ability and vastly recover chewing capability demands that time and care is used when creating dentures unique to each patient. Dr. Bell vigilantly scrutinizes each stage of the denture production process prior to finalizing and moving to the next step. Our patients are confident that with our high standard of never skipping steps, a great result is inevitable. It's time to take control of your smile, and boost your overall confidence!