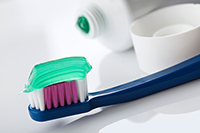 Do you ever worry that you may not be using the right kind of toothpaste for your mouth? If so, then it is important that you know that you can always ask us when you come in for any type of cleaning or exam.

Instead of trying to figure out the answer on your own, ask us to let you know once we take a look at your mouth. If we see signs that you need a bit more when it comes to brushing, we will let you know.


Signs You Are Not Using the Right Kind of Toothpaste
Having cavities is the surest signs that you are not doing something right that there is. It may be that you are not brushing well enough, not flossing enough, or using the right type of toothpaste for your mouth.

If you find yourself struggling with cavities, it may be time to consider using a new type of toothpaste or upping your oral hygiene routine.

Not feeling clean after you brush is another sign that something is not right. It could be that you did not brush everywhere in your mouth or forgot to clean your tongue. Otherwise, it could be a sign that your toothpaste is just not effective enough for your needs.

Do not be afraid to ask us if we believe that you are using the right kind of toothpaste. It is not just about getting a clean taste in your mouth. It is also about getting your teeth (and the rest of your mouth) really clean.

It could also be about getting your teeth to where they are not as sensitive as they once were. Talk to us when you have a question about what type of products to use. We are the experts!

If you have any questions or would like to schedule an appointment, please call us at (425) 883-8333 today.