Anterior Porcelain Crowns & Veneers

Bellevue, WA
Dr. D. Ian Bell - Restoring Your Smile to its Fullest
Anterior Porcelain Crowns
Are you concerned about: unsightly stains, spaces, chips, misalignment, fractures or large fillings in your front teeth? Would you like to restore the youthful color and shape of your smile? Porcelain crowns may be your answer!

Each porcelain crown is custom tailored by Dr. Bell, created using only the finest dental porcelain. Helping to restore your smile to its fullest, Dr. Bell expertly recreates the identical color, shape, size and texture of your natural teeth. Porcelain anterior crowns mirror the qualities your natural teeth possess: they are extremely durable, able to withstand the pressures of heavy chewing, and resist staining.
Anterior Porcelain Veneers
Porcelain veneers are a more conservative option to create your ideal smile. They are bonded over your natural tooth and do not require the removal of much tooth structure. As with porcelain anterior crowns, spaces can be closed, worn and stained fillings replaced, and misaligned teeth can be straightened to create an instantly beautiful smile! Porcelain veneers offer long-lasting durability and incredible natural looking results.

In the fabrication of his crowns, Dr. Bell is renowned for using only top dental grade porcelain and precious metals. Settle for nothing less when enhancing the aesthetics of your teeth and protecting your overall dental health!
Visit us today and let Dr. Bell evaluate which procedure would be right for you!
Before & After: Veneers
Before

This patient fractured her front tooth. If you look carefully, you can see where tooth-colored composite material had been added to the edge of the adjacent front tooth for length.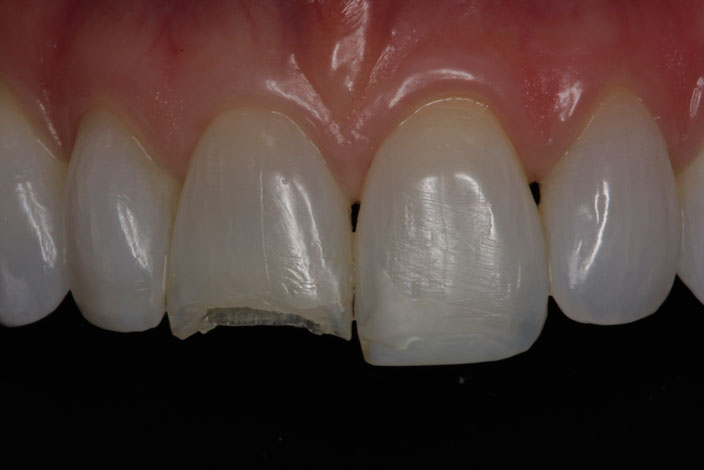 After

Porcelain veneers were placed to restore the strength, form and aesthetics of the two front teeth.
Before

The front bottom teeth had composite restorations at the gumline and incisal edges, which were prone to fracture.
After

If you hadn't seen the before picture, bet you couldn't have picked the teeth with veneers! (There are two).
Before

Seeking a brighter smile, this patient tried teeth whitening, but her teeth were too sensitive. The existing composites were beginning to leak.
After

Porcelain veneers addressed the uneven color of her front teeth and brightened her smile.
Before & After: Anterior Porcelain Crowns
Before

This patient did not like the color of the existing four front crowns.
After

After teeth whitening, four new crowns were designed resulting in a more youthful appearance.
Before

Worn edges, old and yellowed composite fillings, and an uneven smile plane prompted this patient to seek treatment.
After

Anterior porcelain crowns were the answer! She reports smiling for the first time in years for photos!
Before

This patient presented with severely worn teeth, a poorly matching front crown and front teeth that are uneven in length.
Phase One

Surgical crown lengthening was performed to expose more of the tooth crown.
After

In addition to teeth whitening, a combination of porcelain crowns and composite restorations were used to restore the shape, form and aesthetics of his smile.
Before

This 67 year old woman was dissatisfied with appearance of her front teeth due to severe wear.
After

Restoring her front teeth with porcelain crowns gave her a more youthful smile.
Before

This gentleman did not like the length of his front teeth or the snaggle-tooth appearance. He did not wish to whiten his teeth.
After

Restoring his teeth with porcelain crowns created a more pleasing smile. The porcelain color was matched to his existing dentition.
Before

This gentleman disliked the gap between his front teeth. His occlusion (bite) was in good health and he did not desire orthodontics.
After

Using porcelain crowns, the gap is closed and length added to his teeth to create a more pleasing smile.
Before
After
Before

This patient disliked the discolored composite restorations and the wear on her front teeth.
After

Porcelain veneers were placed creating a more feminine shape and contour to her smile.
Before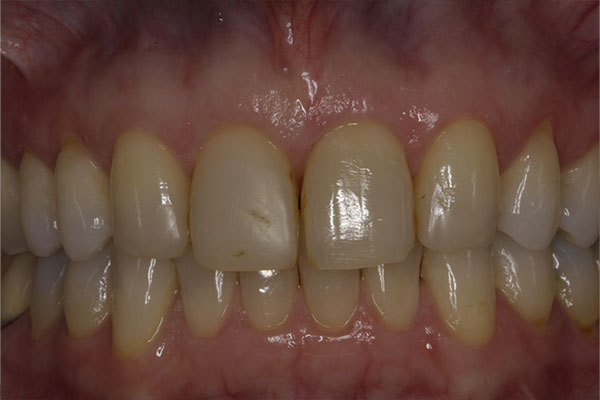 After
After
Before

This woman did not like the color, failing composite restorations and spaces in her teeth.
After

After bleaching, Dr. Bell placed porcelain veneers on her front six teeth, creating a more aesthetic smile.